About Us
Solar Protection Screens of central texas has installed 10s' of thousands solar window and door and patio screens. Blocking the elements before they contact the glass is what we do best, our staff is professional and honest our estimates are free and our service is excellent, providing onsite suggestions to help with your heat issues we will give you our expertize on your best solutions, we carry sample products and color choices to help with all the questions you might have, serving the Austin metro and Ft Hood metro areas.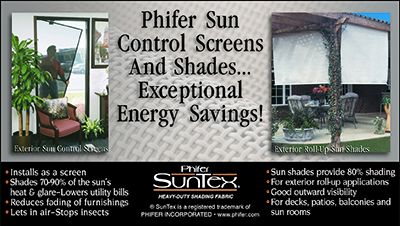 USA made Phifer manufactured products has helped homes and business's stay cooler in the summer and warmer in the winter months, while reducing the cooling and heating energy cost by as much as 1/3, blocking as much as 90% of the heat gain the HVAC system is more efficient when it has to control a 10% heat gain, solar screens act as a exterior barrier protecting your window glazing seals from premature aging and extending the life of the windows. Providing an enhanced exterior apperance along with privacy, solar screens will give you years of benifits at an affodable cost.
SPS is networked through Phifer manufacturing to provide GREENGUARD® certification.
Phifer certifications are accepted throughout the energy conservation community.
We are proud to bring our community the best American-made sun control products.